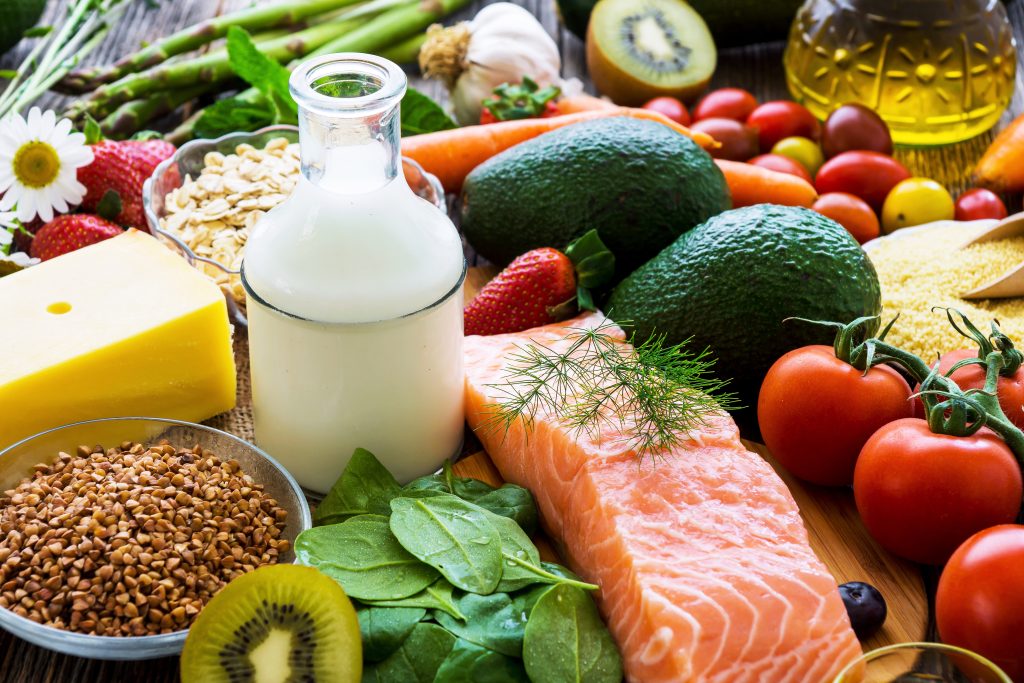 Preparing healthy eating meals doesn't have to be time consuming, labour intensive or expensive; in fact, with a just few everyday essential pantry, fridge and freezer items that can be stored for weeks or even months at a time, you're almost there! Let us show you the reliable staples and flavourful extras that – with or without the addition of fresh ingredients – can form the foundations of a simple, nutritious and delicious meal whilst saving on both time and stress.
Staples
Staples represent the major components of the dish; think: complex carbohydrates, easy protein options and vegetables, primarily. These items are your building blocks for a substantial and sustaining meal.
Pantry
Complex carbohydrates such as brown rice, brown basmati rice, quinoa and pasta (spelt and pulse pasta options are wonderful, nutrient-dense alternatives to wheat pasta). These can be cooked on the stove top in a few minutes, although many ready-made options are also available.
Tinned legumes (e.g. chickpeas, lentils, black beans). These work well in salads, Mexican dishes, or a vegetarian curry or Bolognese sauce. Chickpeas can also be used to create a quick, healthy hummus.
Tinned tomatoes and tomato puree / passata. A wonderful source of lycopene – a potent antioxidant – diced tomatoes and puree / passata work particularly well with tinned legumes (as well as lean beef or chicken mince) for Mediterranean- and Mexican-style dishes.
Tinned tuna, salmon and sardines. Tinned fish is an easy protein option, with sardines and mackeral also being great sources of omega-3 fatty acids.
Quality whey or plant-based protein powder. Blend your preferred protein powder into a smoothie for a quick, travel-friendly breakfast.
Fridge
Eggs. Eggs are a versatile, easy protein option that work well for breakfast, lunch and dinner.
Nuts and seeds. Having a variety of nuts and seeds on hand is a great way to increase the plant diversity of your diet, whilst also boosting your intake of healthy fats, vitamin E and essential minerals such as zinc and selenium. Store them in the fridge – especially in hot climates – to prevent the natural oils oxidising, and sprinkle on salads, roasted vegetables, or yoghurt, or blitz into a healthy pesto.
Natural, Greek yoghurt (unsweetened). Incredibly versatile, add natural yoghurt to smoothies, combine with protein powder and top with fruit, nuts and seeds, and a sprinkle of cinnamon for a snack, and use in dressings, sauces and marinades.
Freezer
Frozen fruits and vegetables. Multiple studies (available here and here) have found no significant difference in the nutritional values of frozen fruits and vegetables, and their fresh counterparts. Try adding frozen berries to a protein smoothie; meanwhile, frozen vegetables can be easily added to a stir fry or baked in the oven. Frozen vegetable mixes are also a convenient way to enjoy a diverse array of vegetables, helping to meet the goal of 30 unique plants each and every week for a healthy and diverse gut microbiome. Read the study here.
Extras
Not to be underestimated, these additions will add flavour to meals in a healthy way, along with beneficial fats and essential micronutrients. Use them in dressings, sauces, quick marinades, or as a finishing touch.
Extra virgin olive oil. A wonderful source of essential fatty acids and renowned for its anti-inflammatory properties, extra virgin olive oil is integral to a healthful Mediterranean dietary pattern. Flavoured options – infused with garlic, chilli or lemon, for example – are also available.
Dried herbs and spices. Although the supermarket selection can feel overwhelming, we recommend starting small with just a few – such as chilli flakes, cinnamon, cumin, ground coriander, paprika and mixed herbs – that you'll likely reach for frequently. As great sources of polyphenols – plant-derived antioxidants that help to reduce oxidative damage in the body, supporting immunity and helping to protect against cardiovascular disease and some cancers, among other conditions. Herbs and spices are an easy way to add flavour in place of excess salt.
Tahini. Made from ground sesame seeds, tahini is a rich source of healthy fats, vitamin E and calcium.
Apple cider vinegar. Aside from being a tasty addition to salad dressings, apple cider vinegar may assist with managing blood glucose balance and healthy cholesterol levels. Read the study here.
Wholegrain or Dijon mustard. Along with other Brassica vegetables – including broccoli, cabbage and cauliflower, to name just a few – mustard seeds contain specific antioxidants known as glucosinolates, which have demonstrated anti-cancer properties.
Nori sheets. A rich source of iodine, nori can be enjoyed wrapped around raw, crunchy vegetables for a quick snack, in homemade sushi, or finely sliced to top a Japanese-inspired nourish bowl.
Tamari. A wheat-free soy sauce, tamari adds a salty, umami quality; use in place of salt to season Asian-style dishes.
Miso paste. Another great source of probiotics, this fermented soybean paste can be used in Asian-style soups and marinades.
Nutritional yeast. A vegan source of both vitamin B12 and zinc, nutritional yeast imparts a savoury, cheese-like flavour and can be used in place of parmesan.
Capers. Both the flower buds and berries contain beneficial polyphenol (antioxidant) compounds.
Tell us, what are your favourite, go-to staples and extras? How do you use them?
For personalised support preparing healthy meals that meet your individual requirements, book your first appointment with one of our wonderful accredited practising dietitians today.
Written by Caitlin Branch, Student Nutritionist, and Amanda Smith, Accredited Practicing Dietitian.
References
Ayadi, J., Debouba, M., Rahmani, R., & Bouajila, J. (2022). Brassica genus seeds: A review on phytochemical screening and pharmacological properties. Molecules, 27(18), 6008-6042. https://doi.org/10.3390/molecules27186008
Bouzari, A., Holstege, D., & Barrett, D. M. (2015). Mineral, fiber, and total phenolic retention in eight fruits and vegetables: A comparison of refrigerated and frozen storage. Journal of Agricultural and Food Chemistry, 63(3), 951-956. https://doi.org/10.1021/jf504890k
Bouzari, A., Holstege, D., & Barrett, D. M. (2015). Vitamin retention in eight fruits and vegetables: A comparison of refrigerated and frozen storage. Journal of Agricultural and Food Chemistry, 63(3), 957-962. https://doi.org/10.1021/jf5058793
Hadi, A., Pourmasoumi, M., Najafgholizadeh, A., Clark, C. C. T., & Esmaillzadeh, A. (2021). The effect of apple cider vinegar on lipid profiles and glycemic parameters: A systematic review and meta-analysis of randomized clinical trials. BMC Complementary Medicine and Therapies, 21, 1-12. https://doi.org/10.1186/s12906-021-03351-w
McDonald, D., Hyde, E., Debelius, J. W., Morton, J. T., Gonzalez, A., Ackermann, G., … & Knight, R. (2018). American gut: An open platform for citizen science microbiome research. Msystems, 3(3), e00031-18. https://doi.org/10.1128/mSystems.00031-18
Paxton, F. (2015). Foundations of naturopathic nutrition: A comprehensive guide to essential nutrients and nutritional bioactives. Routledge.
Rogerson, D. (2017). Vegan diets: Practical advice for athletes and exercisers. Journal of the International Society of Sports Nutrition, 14(36), 1-15. https://doi.org/10.1186/s12970-017-0192-9
Wojdyło, A., Nowicka, P., Grimalt, M., Legua, P., Almansa, M. S., Amorós, A., Carbonell-Barrachina, Á. A., & Hernández, F. (2019). Polyphenol compounds and biological activity of caper (Capparis spinosa L.) flowers buds. Plants, 8(12), 539-558. https://doi.org/10.3390/plants8120539