From pre-conception to pregnancy and beyond.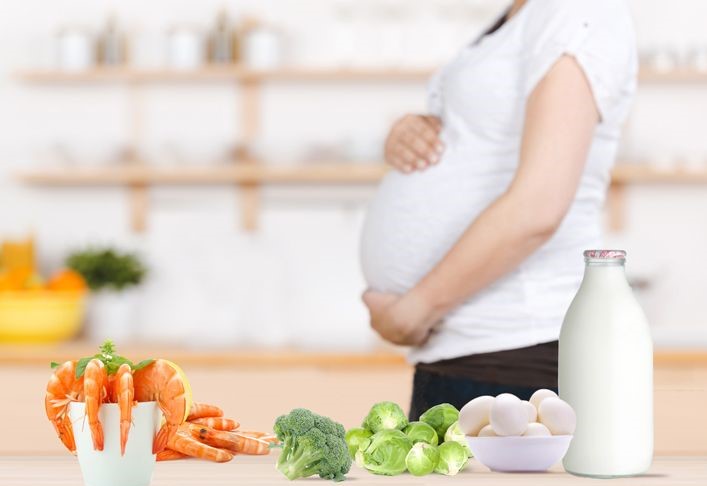 Choline is an essential – and often lesser-known – nutrient that is required at all ages. It's particularly important for fertility, pregnancy and post-partum periods of life. Whilst the body can produce small amounts of choline in the liver, to prevent deficiency, choline must also be obtained through the diet.    
Why is choline so important?
Choline forms part of cellular membranes, helping cells to retain their structure. It also supports nerve and brain function, promoting healthy cognition and memory. Choline also plays an integral role in the digestion and transport of dietary fats, preventing the accumulation of excess fat in the liver (which can otherwise result in fatty liver disease, and liver damage).
Fertility-specific functions and benefits of choline include:
Placental growth and development. Choline supports healthy placental growth and development, facilitating the optimal supply of nutrition to the unborn baby throughout the pregnancy.
Baby's brain development. During pregnancy, maternal choline status influences the development of the hippocampus – the part of the brain responsible for memory – and cognitive function of the unborn baby. Moreover, current research indicates that choline-associated cognitive benefits (encompassing attention, memory and problem-solving ability, for example) continue into childhood, post-birth.

Prevention of neural tube defects. Like folic acid, choline is also associated with a reduced risk of neural tube defects, such as spina bifida.

Postpartum. Choline is also incredibly important postpartum, whether you're breastfeeding or formula feeding (or both). Breast milk is naturally high in choline, meaning larger amounts of choline are lost when breastfeeding; this explains why the requirements for women in this category are even higher than in pregnancy. Because choline continues to play such a vital role in brain development post-birth, in Australia infant formula must be fortified with choline.
Dietary sources of choline
Boost your choline intake with these foods:
Eggs. Just two eggs provides 50 per cent of the daily requirement for choline during preconception and early stages of pregnancy. If you're pregnant or trying to conceive, ensure they're safe to eat by cooking them well. If you're unable to stomach much food without feeling nauseous, try preparing some individual, snack-sized frittatas to help you boost your choline intake throughout the day.
Meat, poultry and fish. Alongside other protein sources, try to enjoy oily fish varieties such as salmon twice per week. Oily fish is not only a good source of choline, but also rich in omega-3 fatty acids to further support baby's brain and nervous system development. Like eggs, ensure that it's cooked well to minimise food safety risks.
Cruciferous vegetables. Broccoli, cauliflower, Brussels sprouts and other cruciferous vegetables are another great way to boost choline intake. Try shredding them raw in Summer salads, or roasting them in extra-virgin olive oil, herbs and spices for a warming side dish.
Peanuts. Peanut butter is a fantastic, low-fuss addition to wholegrain toast, crackers or fruits like banana or apple for a quick, nutrient-dense snack. Look for varieties that are mostly (i.e. at least 99 per cent) peanuts.
Wheat germ. Found in the 'health food' section of most supermarkets, wheat germ is also a wonderful source of fibre, which is often beneficial during pregnancy! It also contains all-important folate. Sprinkle it on granola or oats, or try baking it into wholesome muffins or pancakes.
Do I need a supplement?
Choline supplementation is recommended for women during their preconception, pregnancy and postpartum journey. It is ideal to ensure your prenatal supplement contains around 200 mg of choline. Additional supplementation may be beneficial during the third trimester as requirements are estimated to more than double. Many prenatal supplements – particularly retail supplements – don't contain sufficient amounts of choline (if at all). A dietitian specialising in fertility and reproductive health can recommend a quality, comprehensive dietary and supplementation regime for a healthy pregnancy, and a healthy baby.
For expert dietary support to support you on your fertility journey, book your first appointment with our wonderful Certified Fertility and Prenatal Dietitian Amanda today.
Written by Caitlin Branch, Student Nutritionist, and Amanda Smith, Accredited Practising Dietitian.
References 
Brown, J. (2020). Nutrition through the life cycle (7th ed.). Cengage Learning, Inc.
Bahnfleth, C. L., Strupp, B. J., Caudill, M. A., & Canfield, R. L. (2022). Prenatal choline supplementation improves child sustained attention: A 7-year follow-up of a randomized controlled feeding trial. FASEB Journal: Official Publication of the Federation of American Societies for Experimental Biology, 36(1), e22054. https://doi.org/10.1096/fj.202101217R
National Health and Medical Research Council [NHMRC] and New Zealand Ministry of Health [NZMoH]. (2016). Choline. Nutrient Reference Values for Australia and New Zealand. https://www.eatforhealth.gov.au/nutrient-reference-values/nutrients/choline
National Institutes of Health: Office of Dietary Supplements. (2022). Choline. https://ods.od.nih.gov/factsheets/Choline-HealthProfessional/
Paxton, F. (2015). Foundations of naturopathic nutrition: A comprehensive guide to essential nutrients and nutritional bioactives. Routledge.