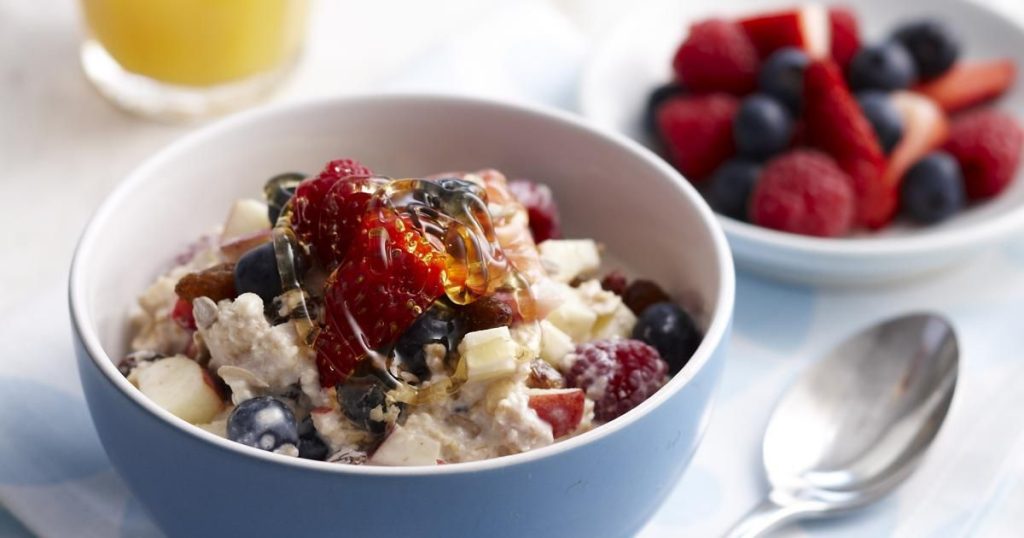 Ideally, every meal should feature a balance of complex carbohydrates, lean protein and healthy fats, for a sustained and balanced release of energy throughout the day. Whilst most aussies get plenty of protein in their diet, many tend to 'back-end' their protein intake – having a large amount at dinner with a much smaller amount at breakfast and snacks. Many foods traditionally marketed as breakfast foods – such as cereal and toast – are high in carbohydrates, requiring skilful selection and a few additions to create a balanced meal. Here, we explain what a serving size of protein looks like, and how to incorporate a good source of protein within a balanced breakfast to keep you feeling full and satisfied. If you exercise in the morning, including a serve of protein with breaky is particularly important.
Protein: Getting to know serving sizes
When it comes to protein intake, a good rule of thumb is 20-40g at main meals. So aiming for 20g+ with breakfast is a good target. Below are serving sizes for common protein foods to enjoy at breakfast.
One serving of protein is equivalent to:
170g tofu; contains ~21g protein.
Two large eggs (~60g each); contains ~14g protein.
1 cup (~150g) cooked legumes, e.g. beans, chickpeas; contains ~10g protein.
30g (~2 tablespoons) nut and seed butters, and 30g (~3 tablespoons) of nuts and seeds, depending on their size; contains ~7g protein.
A half serving of protein is equivalent to:
50g smoked salmon (often presented as a full 'serve' on product packaging); contains ~12g protein, alongside essential omega-3 fatty acids.
Dairy and alternatives (calcium-fortified are best) also contain protein:
One serving of cottage cheese (~120g or ½ cup) contains ~14g protein.
One serving of Greek-style / natural yoghurt (~200g or ¾ cup) contains ~10g protein. Some higher-protein yoghurts are also available such as Chobani and yopro.
One serving of soy milk or regular milk (~250mL or 1 cup) contains ~9g protein.
Breakfast: Putting it together
To set yourself – and your day – up for success, why not give one of these breakfast ideas a go? Pay attention to how you feel afterwards; although everyone is different, in general we should feel satisfied and energised after eating, and ready for food again a few (approx. 3-4 hours) later.
Protein smoothie. Provided all your ingredients are prepped and ready to go, a protein smoothie is truly a quick, easy and travel-friendly breakfast option. Adding a scoop of quality whey or plant-based protein powder, or silken tofu, are great ways to boost the protein content. Find our tips on how to build a balanced, satiating smoothie here.
Shakshuka. If you have a little more time, perhaps on a non-work day, shakshuka – a traditional Middle Eastern and North African dish – is a wonderfully warming option. Eggs are poached in a hearty, spiced tomato sauce, often topped with fetta and herbs, and served with a slice of crusty seeded bread. Try adding some (canned and drained) cannellini beans to your tomato base for additional protein and fibre.
Bircher muesli. Easily prepared the night before, bircher muesli lasts safely in the fridge for a few days. Soak rolled oats with a combination of nuts and seeds in your preferred milk overnight, and then stir through natural or soy yoghurt. Serve with an extra dollop of yoghurt, a sprinkle of nuts and seeds (or swirl of nut butter) and fruit – berries (fresh or frozen) and poached pears are both delicious options. Soy protein crisps – which have a rice bubble-like texture – are another nice topper that offer an extra protein boost!
Toast three ways: Try one, two or all three! Look for higher-protein bread varieties (or consider making your own); these are typically made with wholemeal flour with added wholegrains and seeds, and are usually heavier to lift off the shelf!
Smoked salmon with cottage cheese and capers.
Nut butter, banana, cinnamon and seed sprinkle (try chia, sesame or hemp seeds).
Eggs with avocado, chilli flakes and a squeeze of lemon. (This one is especially quick and easy to prepare if you've hardboiled a few eggs ahead of time.)
Mini frittatas. Another travel-friendly option, mini frittatas can be pre-prepared and even stored in the freezer; just be sure to wrap them individually and defrost overnight in the fridge. Aim for at least two eggs per frittata; fetta and lots of fresh, seasonal herbs and vegetables are nice additions.
Breakfast tortilla. Breakfast burritos can be incredibly nourishing and nutrient-dense, and are another freezer-friendly option. Try layering mashed sweet potato, scrambled egg or tofu, and black beans in a wholemeal tortilla and top with grated cheese, spinach and avocado. Roll up to enclose the filling and toast in a sandwich press or frying pan.
Tell us, what's your go-to high-protein breakfast?
For expert dietary advice tailored to your unique needs and preferences to support you on your way to optimal health, book your first appointment with one of our wonderful accredited practising dietitians today.
Written by Caitlin Branch, Student Nutritionist, and Amanda Smith, Accredited Practicing Dietitian.
References
Australian Government. (2016). Serve sizes. Eatforhealth.gov.au. Retrieved April 6, 2023, from https://www.eatforhealth.gov.au/food-essentials/how-much-do-we-need-each-day/serve-sizes
Food Standards Australia and New Zealand. (2021). Australian food composition database – Release 2.0. Accessed April 6, 2023, from https://www.foodstandards.gov.au/science/monitoringnutrients/afcd/Pages/foodsearch.aspx
National Health and Medical Research Council [NHMRC] and New Zealand Ministry of Health [NZMoH]. (2016). Protein. Nutrient Reference Values for Australia and New Zealand. Retrieved April 6, 2023, from https://www.eatforhealth.gov.au/nutrient-reference-values/nutrients/protein