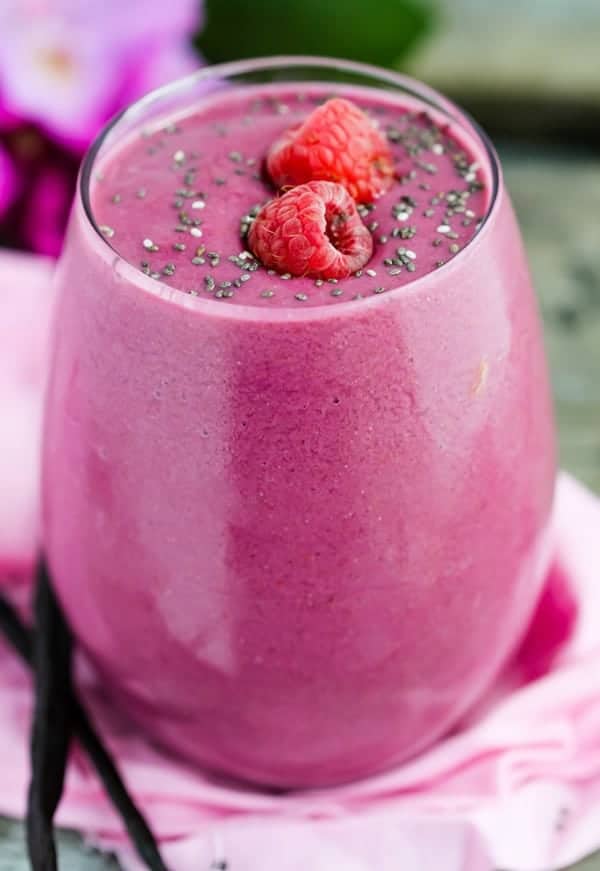 Traditionally, snack foods could be divided into two groups, with some – typically high in sugar, saturated fat and/or salt – falling more into the discretionary category, and others – although more nutritious – not terribly inspiring. But with an abundance of snack options that deliver on both nutrients and taste now widely available, we are truly spoilt for choice. Below, we share some of our favourite high-protein options to keep you feeling satisfied until your next meal. As always, tune in to your unique body's hunger signals – if you're hungry, remember that it's okay to have more than one at a time.
Sweet | Think: Fruits, nuts, seeds + spice
Protein bar. Not all protein bars are created equal; be especially mindful of those containing large amounts of sugar or sugar alcohols (e.g. sorbitol, maltitol, xylitol), which can lead to bloating and digestive upset. Making your own of course gives you more control over the ingredients list, but for the time poor amongst us (most of us!) some great-tasting, nutrient-dense options are available at most supermarkets. FodBods and Carman's protein bars are some of our favourites.
Loaded toast. Try topping one or two pieces of wholegrain toast with your preferred nut butter, sliced banana, cinnamon and a sprinkle of seeds like chia, sesame or hemp seeds. Look for higher-protein bread varieties (or consider making your own); these are typically made with wholemeal flour with added wholegrains and seeds, and are usually quite heavy for their size!
High-protein yoghurt. Relative newcomers to the market, high-protein yoghurts are another great way to boost protein intake. YoPRO and Chobani both have high-protein options that are low in sugar. Enjoy on its own, or with fruits – fresh berries are great in the warmer months, whilst fresh or poached pears are a nice cool weather option. Add a sprinkle of cinnamon or vanilla protein powder, and some nuts, seeds and/or soy protein crisps for crunchy texture.
Protein smoothie. If your schedule and/or workplace allows, a protein smoothie is a quick, easy and portable snack option. Adding a scoop of quality whey or plant-based protein powder, or silken tofu, to your blender provides an easy protein boost. Find our tips on how to build a balanced, satiating smoothie here. [How to make a healthy smoothie that is filling.]
High-protein muffins. Although muffins don't traditionally offer much in terms of protein, a few savvy swaps can boost the protein content considerably. Muffins made with nut flour (e.g. almond meal) and/or with protein powder incorporated into the mixture, along with less refined sugar, will be much more satiating. Using Greek yoghurt instead of milk is another great way to boost the protein and keep muffins moist! You'll also less likely experience the blood sugar spikes (and crashes) that you might otherwise associated with sweet treats.
Savoury | Think: Vegetables, legumes, eggs + cheese
Roasted chickpeas or edamame. Roasted chickpeas and edamame are tasty alternatives to chips and salty crackers, and are also commonly gluten-, nut- and dairy-free for those of us needing to avoid these. Most supermarkets have a decent, ready-made range available, but it's also possible to experiment with different flavour combinations at home! If making your own roasted edamame snacks, look for unshelled varieties in the frozen section as they're better carriers for flavour than their shelled counterparts.
Topped seeded crackers. Try topping seeded crackers (which are more protein-rich than traditional varieties) with cottage, cheddar or goat's cheese, tomato and fresh basil or chives for a tasty savoury snack. Keep an eye out for crackers with a relatively short list of ingredients, and – ideally – a variety of seeds listed as the first few ingredients.
Hummus with seeded crackers and crudites. Made from chickpeas and tahini, hummus offers more protein than many other dip varieties. Try serving with seeded crackers and/or sliced crunchy vegetables like carrots, celery and capsicum, and add a few olives to your plate if you're craving something salty. Alternatively, you could also make your own tzatziki using a high protein Greek yoghurt!
Popcorn with nutritional yeast flakes. Although not the highest protein option, topping air-popped popcorn with nutritional yeast will add a nice boost, along with dietary fibre and essential B vitamins. To boost protein a bit further, you could add some roasted nuts/seeds to make more of a trail mix with the popcorn.
Mini frittatas. When made in advance, mini frittatas can be stored in the freezer, ready to defrost as you need them. Aim for at least two eggs per frittata; fetta and lots of fresh, seasonal herbs and vegetables are flavourful additions.
Tell us, what's your favourite high-protein snack?
For expert dietary advice tailored to your unique needs and preferences to support you on your way to optimal health, book your first appointment with one of our wonderful accredited practising dietitians today.
Written by Caitlin Branch, Student Nutritionist, and Amanda Smith, Accredited Practicing Dietitian.